Hard-wearing, low maintenance, and long-lasting flooring solutions for your commercial, hospitality, retail, or industrial premises
Commercial-grade Epoxy flooring systems designed with your business in mind
London Linings uses a commercial-grade polyaspartic topcoat that can dry and cure within 6 hours of application. This is especially beneficial to a range of commercial premises, as your floors are ready to walk on the next day.
Please contact us so that we can find the right solution suited to your commercial flooring needs.
Commercial Epoxy floor solutions
Commercial Kitchen
From moisture and temperature fluctuations to heavy foot traffic, Epoxy flooring is a durable and tough solution ideal for commercial kitchen and food processing settings.
Commercial kitchen Epoxy floor coatings provide the ultimate in sanitation, maintenance, and durability, ensuring you can create a hygienic and safe workspace. Epoxy is compliant with all safety regulations.
Mechanical Workshops
High vehicular and foot traffic settings such as mechanical workshops need a resilient and long-lasting solution that can withstand daily wear and tear.
In addition to physical impact, mechanical workshops in particular are also susceptible to substances like oil.
Our flooring solutions are also suitable for car dealerships, internal car parking areas and garages.
Food & beverage industry
Restaurants, bars, cafes, and other hospitality venues choose Epoxy flooring not only for its durability and longevity but its aesthetic, too.
Modern Epoxy solutions deliver a wide range of colours, shades, and finishes, so you can find the right flooring that suits your space and complements your style.
The perfect solution for the F&B industry.
Basement garages
London Linings works closely with builders and developers to deliver beautiful, high-end, quality Epoxy flooring solutions for commercial and multi-dwelling basement garages.
Protect your substrate from moisture, stains, and cracks with an Epoxy garage floor coating system.
Warehouses
From storage and packing to deliveries and foot traffic, a warehouse is a high-activity and fast-paced commercial environment.
Epoxy flooring is a fantastic solution for busy warehouses, storage facilities, and stock rooms: it's non-slip, resistant to moisture and liquids, durable and long-lasting, and easy to maintain.
Retail premises
Epoxy flooring is a modern and attractive flooring solution designed not only for industrial environments, but commercial spaces that welcome customers, patrons, visitors, and guests, too.
From shopping centres and food courts to retail stores, gyms, and public toilets, Epoxy flooring delivers both aesthetics and quality.
Why choose Epoxy flooring for your commercial space?
Durable

Waterproof and resistant to heat, chemicals, and heavy traffic: it's no wonder Epoxy is one of the most popular flooring options for commercial use.

Long-lasting

This high-quality Epoxy flooring solution can typically last up to 10 years with little maintenance, making it one of the most cost-effective solutions for your commercial or industrial space.

Low maintenance

Epoxy flooring is easy to clean and requires very little maintenance to keep it looking fantastic.
Thermal shock resistant

Epoxy flooring is less susceptible to damage from fluctuations in temperature, and will not warp, bubble, or crack.

Sustainable and cost-effective

Long-lasting, your Epoxy flooring is a sustainable solution for eco-friendly businesses. And when the time does come for new flooring, the old floor does not need to be removed and replaced; we'll simply apply a fresh coat of Epoxy flooring over the old one.

Aesthetics

Available in a range of colours and finishes, Epoxy flooring can meet your unique aesthetic needs and boost the value of your property!
Commercial Epoxy flooring cost
The cost of commercial Epoxy flooring in Melbourne depends on your unique requirements including the floor area of the premises to be treated.
At London Linings, our professional Epoxy flooring solution starts from $70 per square metre. We encourage you to measure your space and provide your floor size when you enquire online for a more accurate estimate.
This process includes both preparation and application of Epoxy flooring.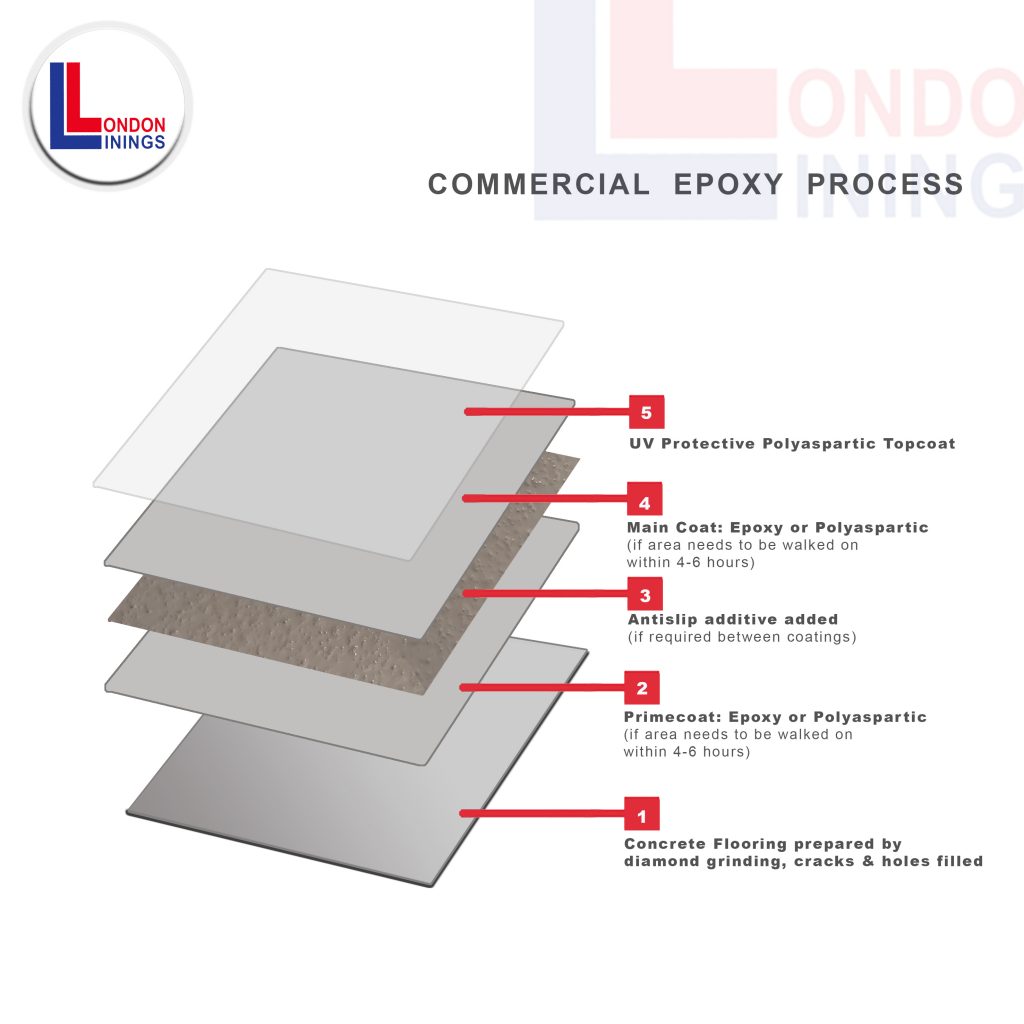 Got something custom in mind?
Our Epoxy flooring professionals can help!
We offer a custom range of solutions that include anti-slip coatings, commonly used in kitchen areas, and polyaspartic coatings, which are more chemical-resistant and cure faster, therefore can be used within 6-7 hours.
Custom add-ons include:
Slip Testing:

Carried out by a Pendulum process where a rating is required.

Logo design and installation

We can specially print a sticker without a protective coating so that it can be applied and coated with Epoxy.
Is there a difference between Epoxy flooring and industrial Epoxy floor paint?
While the two terms seem similar, there indeed is a difference between the two. You must be aware of this distinction so that you can choose the right solution that fulfils your needs and meets your budget.
Epoxy flooring
Epoxy flooring is the standard coating we implement in a range of commercial and residential settings, such as garages, warehouses, and retail stores. Epoxy flooring is usually at least 2mm thick.
Epoxy paint
Epoxy paint, on the other hand, is a layer of Epoxy coating that is thinner than 2mm.
Epoxy paint is generally composed of acrylic latex and also contains a smaller amount of Epoxy which helps the paint adhere to the substrate.
Generally, Epoxy paint cannot withstand wear and tear the way that professional Epoxy coating can, and may begin to flake, chip, and disintegrate sooner.
While it may be a quicker and cheaper method in the short term, the fact of the matter is that it's simply not an enduring or sustainable solution for the long term, particularly when you DIY.
Explore our Epoxy flooring solutions
These solutions may be acceptable, but they're simply not equally effective as a professional solution. London Linings offers fantastic value for money, providing an Epoxy flooring solution designed to stand the test of time without compromising on quality.
If you have any questions about the Epoxy flooring application process, we invite you to get in touch today! If you would like to request a quote, please provide us with the size of your space in square metres, if possible. In addition to commercial applications, we also provide residential flooring solutions.
See what our clients are saying


Jay worked on my garage floor and did a fantastic job! His pricing is reasonable and his communication skills are top notch. He happily helped with my questions even after the work is done. This kind of customer service is much appreciated and often hard to find. He takes a lot of pride in his work and makes sure he does a good job. Thanks so much Jay!
Fantastic job .. well worth every dollar spent… thanks for a top notch job , Jay.
Jay did an amazing job on My garage floor. He was on time friendly and very helpful. Would definitely recommend jay to friends and family if they ever needed his services.
Fantastic job done, cant wait to set up my garage.
Phenomenal experience engaging Jay from London Linings to work on my garage floor. I spoke with several other businesses prior to finding Jay. From our first phone call, I knew I wanted to go ahead with Jay, even though he wasn't the cheapest. Jay was kind and respectful over the phone and very responsive over text messaging. He gave me pointers on finding the right look I wanted by telling me about the showroom. He also went above and beyond to provide recommendations based on the colour of our house. He was professional and on time and I genuinely couldn't have asked for more. I highly recommend his services and if I had another garage, I'd bring Jay in again!
Phill Nikoloski
2023-09-27
Jay has done my previous garage and now my current garage in half flake. The workmanship is 10/10. Friendly service. On time every time. Well priced. I couldn't be happier.
I had been following & admiring Jay's work on Instagram for a while and finally decided to get my garage floor done. From the very first time I contacted Jay, I knew I had chosen the right man for the job. Jay's workmanship was second to none and my garage floor now looks amazing. Jay was always prompt to reply when contacted, friendly, punctual and did everything to make sure the flooring looked perfect. I can very confidently recommend Jay to anyone looking to have any sort of epoxy flooring work completed. You will not be disappointed.
Christopher Kralevski
2023-08-24
Absolutely one of the best companies to work with when it comes to garage flooring solutions. Jay was a sensation to work with and takes great pride with his work. Overall it was priced very reasonable, and the outcome has surpassed what I initially expected. In all honesty probably one of the best upgrades and facelift to a garage that I've ever come across and have ever got done. Basically a night and day difference when it comes to the finished product. The garage looks so so much better and cleaner😁 I am so happy and satisfied with the work Jay has done and I will be looking forward to getting more work done by jay in the near future for my backyard🤩 Highly recommend company to use, when it comes to a good Epoxy floor solution Thanks Jay for the absolutely wonderful work you've done🤩😁👌
Jay has truly outdone himself with the transformation of my garage floor. The level of craftsmanship is truly exceptional, and his meticulous attention to even the smallest details is truely commendable. Needless to say, I am absolutely delighted with the final result.
Jay stepped in on very short notice to do our garage floor. We are thrilled with the result. Jay is passionate about his work, punctual and tidy. We enjoyed a chat about our common interest in epoxy resin. We can highly recommend Jay.
London Linings are Melbourne based qualified applicators that specialise in installing Decorative Epoxy Flaked floors within both the Residential and Commercials Markets.
Based in Melbourne, London Linings offers residential and commercial Epoxy flooring solutions anywhere across Victoria.